Cas & Jonesy : A Great Success
Published on 27.01.2012 - Cas & Jonesy : Crossing the Ice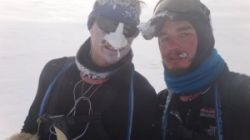 Hercules Inlet to SP and back : a great success for Justin Jones and James Castrission
© Expedition website
Australian Justin Jones and James Castrission Have finally arrived at Hercules Inlet just before the closing of the ALE 2011-12 season. They bring a world first back home.
Here is the press communiqué of the Expedition : Mission accomplished! 26 January 2012, at 1.05 pm (Chilean time), Aussiers Cas and Jonesy completed their world first expedition.
They have now become the first people to ski unsupported from the edge of the Antarctic to the South Pole and back. The expedition took 89 days and covered a total distance of just over 2,270 km!