First and early abandon : Irish team is giving up…
Published on 12.03.2012 - Irish North Pole 2012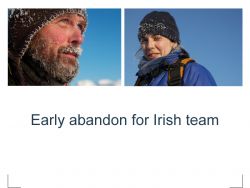 After having spent ten days on the ice, Irish team decided to give up their attempt
© Expedition website
After having waited for three weeks in Resolute (they got there on February 5th), Clare O' Leary and Mike O' Shea have been dropped at Ward Hunt on 2 March. But on 12 March, after having spent ten days on the ice, they decided to abandon their attempt.
Here are some excerpts of their press communiqué (it seems that they had to give up because of financial considerations) : "... The Irish North Pole Team is currently returning to its start point following a difficult decision to abandon this year's attempt. The team is safe and well having spent the past 10 days on the Arctic ocean; the first two weeks of a North Pole trip is regarded as extremely challenging because of the unrelenting cold and difficult pack ice terrain. Since landing on the ice, the team's plan to share charter logistics with other teams has fallen apart – leaving them to potentially face a bill of between 120k &180k euros to fund their resupplies and pickup should they continue.
The team has stated that 'it was a very difficult and disappointing decision to have to turn around; we had been moving well through one of the hardest sections in a period of uncharacteristic bad weather, but with our opportunity of shared resupplies removed, we were left with no choice but to return to the start point and get a charter out to Resolute Bay. It will take several days for us to return to Cape Discovery and we hope to catch a Charter on the 15/16th March'.
'We never anticipated this turn of events. It's very hard to explain how difficult it is to walk away from an expedition into which we have invested so much time, energy and money -especially when it feels like things are going well for us. We have turned and are heading back to our start point from where we have arranged pick up. This will take some days.'
Thank you to all our Sponsors, supporters and well wishers; we will post an update when we are off the ice. ..."