Ousland / Eide's tourists : almost done with the SP !
Published on 18.12.2011 - The South Pole Jubilee Expedition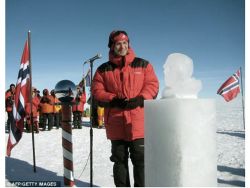 14 December ; the prime minister of Norway has travelled to the SP to celebrate the Amundsne Centenial
© AFP Getty images
While the Jubilee Expedition party (last two degrees) arrived at South Pole in time for celebration, the ones guided by C. Eide were negociating the Titan Dome and have begun their descent to the Pole.
On 18 December, Lars Ebbesen (covering the Eide's party) has some quite exciting piece of information to give.
First, they have no longer than 38 km to go to reach south Pole. These last days they have performede extremey well like we wrote on 12 December in our last update, with mote than 30 km done each day. Quite a feat for non polar people!
Second, let's not forget that if they will reach SP with no problem, the group has still another leg to achieve, going back kiting until Hercules Inlet which is another 1.100 km.
Third : one of the team members, Trond, is leaving the group at the South Pole. Lars Ebbesen writes : "... Only Trond will leave the team here and go back. It will be sad to see him leave. Pretty sure he will de overjoyed to bag the Pole, but sad not to continue what has been an incredible adventure. – Though at Jæren in Norway they will be both proud and happy. ..."
Meanwhile, under a goldious blue sky and temperatures of -40F (-40C), the Norwegian Prime Minister Jens Stoltenberg remembered the Norwegian explorer – Amundsen's achievement on the spot where he placed his flag on 14 December 1911 at the South Pole, 100 years ago.