Prince Harry returns home, the wounded carry on walking
Published on 09.04.2011 - Walking with the wounded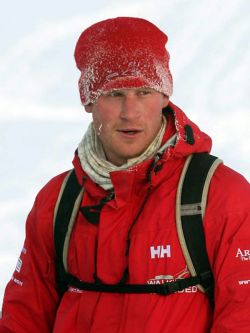 His Royal HIghness Prince Harry had promissed to be there at the start and He was...
© Getty Images/WwW's website
After days of long waiting in Longyearbyen, Svalbard, team of 'Walking with the Wounded' could finally fly to Barneo and then to their starting point. Prince Harry had promissed to go with them.
HRH prince Harry had promissed to be there at the start, even if he could not make all the trip with the wounded soldiers ; and he was. On 4 April he even writes in the expedition diary : "... Hello Harry here, all the boys are really excited to finally be going, we've been sitting around here for far too long now. Blue sky outside here at Svalbard, can't wait to get on the ice with the boys, shame I will only be able to spend about two and a half days with them, but they are all really excited so keep the support going. The miles may have to be minimised only by a little bit but its not going to make a difference to what these guys are doing, its truly inspirational truly remarkable, so lets keep the support going! ..."
They finally took off after 11pm on Monday and landed few hours later in Barneo. There, they were immediately taken into a MI 8 helicopter which flew the the point of departure. Excerpts from the logbook : " ... We all got in to a helicopter, flew right to our start point and after about ten minutes in the air we came out of the low visibility. There in front of us was the frozen Polar Ocean. It was one of the most remarkable sights any of us have ever seen. We were fairly prepared for what it was going to look like but the sheer beauty of the place we landed – it's so difficult to describe… white everywhere but thousands of different colours, the sun was in the sky and it was incredibly uplifting for all of us. ...
" ... Temperature wise it's remarkably warm, it's only minus twenty, with the wind chill factor taking it down to minus thirty, so we were all fine from a temperature point of view. Now we're having a quick breakfast, I'm in a tent with Jaco and Steve, next door Simon, Martin and Guy and at the end of the line Prince Harry and Inge. We are raring to go. What we'll do is try and call in about 7 o'clock our time to let you know about our day of adventures. Anyhow we will speak to you all soon, thanks for the support, keep following us! ...
On day 5 (8 April), the Prince left the team for military and Royal commitments while the team had made fantastic progress covering about thirteen miles the last day. Of course the wounded soldiers had to work particularly hard, becasue the had to counterbalance where their injuries demanded.