Testing is an important step (Fiennes)
Published on 26.11.2012 - The Coldest Journey (Sir Ranulph Fiennes & Team)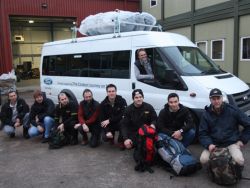 From left to right: A Varley, A. Thomas, C. Lusada, A. Bowring, M. Stevely, D. Main, S. Smirl, Ran Fiennes, Tris Kaye (driver)
© Expedition website
One seldom speaks about the preparation of the polar expeditions. Nevertheless these long years dedicated to the finalising of the material are of the highest importance for the success of the project. Here, the testing of The Coldest Journey' material.
Through a series of four articles, Steve Holland looks back at the Field Trials that took place up on the Arctic Circle in Sweden in February.
These were used to test equipment and to run the selection process for the driver/mechanics.
The team managed to catch one of the coldest spells of weather that the region had experienced in years. They show just how much you can do in ten days with the right people, despite what the weather and fortune throw at you.
Discover here on Fiennes/Coldest Jounrey' website : A Swedish Saga.