Solo on the classical Hercules Inlet - South Pole (Richard Parks)
Expedition News-Official Website
From 25.10.2012 to - Status: abandoned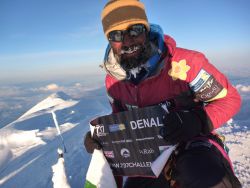 After having succeeded his 737 Challenge, Richard Parks is on the classical trek Hercules Inlet - South Pole
© Expedition website
After having retired from international rugby because of an injury, welshman Richard Parks has become the first person to succeed in reaching the seven summits as well as both North and South Poles in less than one year.
During 2009, Richard Parks, the former well famous rugby player (ex-Newport, Pontypridd, Celtic Warriors and Leeds back-rower) had to retired from international rugby competition because of a knee injury and a serious shoulder problem. See the BBC article.
One year later, on 12 December 2010, Parks began his 737 Challenge (1) in Cardiff on the centenary of the departure of the ill-fated Terra Nova Expedition, led by Robert Falcon Scott, from that city. Parks was joined on parts of his expedition by Olympic rower Steve Williams OBE and Marie Curie nurse Janet Suart.
He completed each leg of the challenge on the following dates:
Leg 1: The South Pole - 27 December 2010, 6.10 am GMT
Leg 2: Mount Vinson - 8 January 2011, 5.15 pm GMT, 1.15pm local time
Leg 3: Aconcagua - 5 February 2011, 5.54 pm GMT
Leg 4: Kilimanjaro - 27 February 2011, 4.57 am GMT
Leg 5: Carstensz Pyramid - 15 March 2011, 11.28 pm GMT
Leg 6: The North Pole - 11 April 2011, 2.20 pm BST
Leg 7: Everest - 25 May 2011, 2.57 am BST
Leg 8: Denali - 30 June 2011, 8.08 am BST
Leg 9: Elbrus - 12 July 2011, 8.53 am BST
That date, Parks became the first ever adventurer to succeed (in the same calendar year) the 7 summits (the highest peak of each continent, Vinson in Antarctica -4897m-, Denali in Alaska, North America -6195m-, Elbrus in Russia Europe -5633m-, Aconcagua in South America -6962m-, Kilimanjaro in Africa -5963m-, Carstensz Pyramid Oceania Indonesia -4884m-, Mount Everest Nepal Asia -8848m-, as well as both North and South Poles (2).
He completed his 737 Challenge in a record setting 06 months, 11 days, 07 hours and 53 minutes. The 737 Challenge was raising funds in aid of Marie Curie Cancer Center.
This time he has announced that he will go back -solo- to the Antarctic to do the classical Hercules Inlet -> South Pole.
Richard stated about his solo trek : "This expedition is the culmination of many months of research and development with my sponsors and suppliers and I am really excited to test these systems in a cold and hostile environment. Antarctica touched me deeply during the first leg of my 737 Challenge and has never left me, I feel very grateful and privileged to be able to go back. It was an incredible moment for me to stand on the South Pole and to have the opportunity to return again is really exciting."
He added : "This expedition will be 4 to 5 times longer than my first journey to the South Pole and significantly more challenging as this solo expedition will test me not just physically, but psychologically and emotionally in a different way."
For more info about this expedition, see Richard's website.
-------------------------------------------------------------------------------------------------------
(1) Why has Parks named his challenge "The 737 Challenge" ? Simply because it involved conquering 7 summits, 3 poles in 7 months.
(2) There is a debate between the ones who think that Mount Kosciuszko (2228m) in Australia should be included in the highest mountains of each continent because they consider Australia as a full continent. And the other ones who think the contrary, considering rather Australasia as a continent. And thus include the Carstensz Pyramid (Peak) instead of the Kosciuszko.