Skiing in white out : no problem for Bosch !
Published on 09.12.2011 - South Pole 1911-2011, Two Men One Goal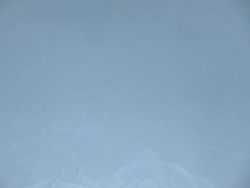 Photos of the white out are seldom published : here is a quite impressive one taken by Bosch
© Albert Bosch
Despite the white out, Catalan Albert Bosch moves ahead. He has found a way to ski even during the white days.
How to ski in the white out
Here is how Bosch describes his new knack to ski without seeing anything in front : "... In order to maintain the course I was looking at the compass constantly (As I only turn the GPS on every now and then to check the course and Kilometres, otherwise I f I have it on all day I would run out of batteries very soon). But as it usually happens, our senses adapt to each new situation, and in the end, I have learned to follow my course looking at the snow beneath. I'll explain: in order not to stop all the time to look at the compass, I have set a specific angle with the direction where the snow is combed, and as here always blows from south, the snow lines indicated South, and I calculated approximately the skis angle regarding the snow lines I was treading This has allowed me to gain some time and kept checking it every 10-15 minutes. And it really wasn't much deviation at each control. I have learned something new."
Besides, things are going better for the Catalan because of the terrain which has become harder and harder and of course easier to glide on.

His latest udpades :

Monday 5 December (day 36) : Hours of journey: 9h45' - Accumulative: 172h15 / Km per day: 25 - Accumulative: 334,4Km. Remaining to the South Pole: 810,6Km. / Days of progress: 21 (17 Solo) - Inactive Days: 15 (0 Solo) - Total Days: 36.
Saturday 3 December (day 34) : Hours of Journey: 9h30' - Accumulative: 162h30 / Km per day: 20 - Accumulative: 309,4Km /Days of progress: 20 (16 Solo) - Inactive Days: 15 (0 Solo) - Total Days: 35.
Friday 2 December (day 33) : Hours of journey: 9h15' - Accumulative: 153h00 / Km./Day: 20 - Accumulative: 289,4Km./ Days of progress: 19 (15 Solo) - Inactive Days: 15 (0 Solo) - Total Days: 34
Last position of Albert Bosch (8 December) : 83° 64112 S / W 80° 01232