Dark Ice Project : Hibbert and Miles abandon
Published on 28.01.2013 - The Dark Ice Project (A. Hibbert & J. Miles)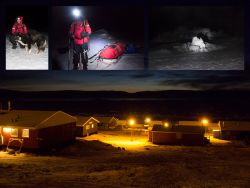 Very shortly after the start along the seaice of the west coast of Greenland, pair had to abandon due to serious illness
© Expedition website
Bad luck for the british pair: after not even a week of progression on the Greenland seaice along the west coast, Justin Miles became seriously ill. In order not to put his life in danger, the decision had to be taken: return asap to Quaanaaq and cancel all further operations.
And this was only the first part of a much bigger project: to reach the North Pole during our septentrional winter. That means progressing on the icepack without seeing much of the distance ahead (see the upper right photo).
Of course, Hibbert just wrote the press communiqué of the expedition saying that the Dark Ice Project is still alive and that we all have to stay tuned. But for how long guys ?
Please discover here the entire PDF of the Press Communiqué published in London a few days ago.