First mission : Depot on the plateau (Coldest Journey)
Published on 18.02.2013 - The Coldest Journey (Sir Ranulph Fiennes & Team)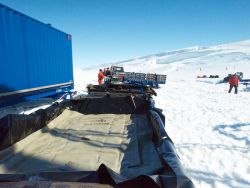 One of the 14 heavy steel sledge in which are store the bladers with 8000l of fuel each
© Expedition website
Before the real start of the expedition (21 March), the team has an important mission : to leave with all the vehicles and the material towards the Antarctic plateau in order to make a fuel deposit far from the coast.
On their daily blog, one could read on 9 February under Smirl's latest : "The first successful day of travel finally happened. Well, not completely successful, but just about. Yesterday was Thursday the 7th of February. It was our 18th day on the Antarctic continent. Long days spent unloading and assembling our massive amount of kit. The sun never stopped shining and the temperature didn't spend much time below zero. The struggles of coping with missing kit, equipment growing pains and a difficult fit and finish would have been a lot more difficult to bare, had we had to do it at -20C with a 50-knot wind. Thank the ice gods that wasn't the case. ... "
To follow the complete adventure of The Coldest Journey's Fiennes expedition, please go to their original website or open this PDF document with the entire follow up published (04 > 15 February).