The situation becomes critical
Published on 15.11.2011 - South Pole 1911-2011, Two Men One Goal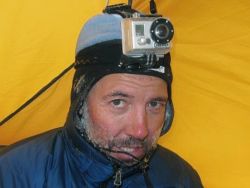 This photo has been taken when Bosch came back in the tent after only 4 minutes having been outside
© Expedition website
Catalans Albert Bosch and Carles Gel are linving a real nightmare over there. They had to stay 14 days in the tent and as soon as the wind stopped blowing...
13 November, day fourteen : after having passed 13 days without moving, cloistered in the tent, catalan team has been informed by the ALE logistics based in Union Glacier that the wind would decrease around midday. Wrong forecast : heavy blizzards have been the characteristic during the all day.
This situation is starting to worry both men. Not only, their prevision to be at the Pole for 14 December is now out of date, but because of the snow accumulation around, the tent shows points of fatigue. "... We are getting worried as our tent is starting to show some visible signs of fatigue and food supplies are being reduced as days go by... "
Even more frustrating : on 13 November, at night, the wind had finally stopped blowing. They soon started to get ready for the start and finally move out of the place where they were stuck for 14 days.
"... We started our journey in high spirits and just as we covered our first kilometer the wind was back on us, added to the fresh snow and low visibility that were making our route hell, to cover 10 meters it took us in some parts up to 15 minutes.
We had targeted a mountain pass where it seemed the wind would not affect us that much, but it was very steep and it was crossed by a glacier, so we started to go around it, and we had also on our GPS the location of a few crevices, but in those conditions as we could not see anything we decided to stop again, plant our tent and sleep another night together with our catabatic whip."