The weather day by day
Published on 11.09.2010 - The Northern Passage 2010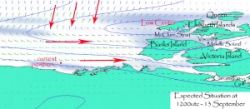 The weather map on Day 60 of Borge Ousland expedition
© World Wide Weather Expeditions / Marc De Keyser
When following the polar expeditions one has seldom the opportunity to write in detail about the weather and its implications for the unfolding of the related adventures. For Ousland's Arctic circumnavigation, it's different. Almost every day, there is a special part of the blog dedicated to the weather. Belgian meteorologist Marc de Keyser is taking care of the weather forecast.
Following the expedition : thanks to satellite links...
Nowadays almost all the professional expeditions which choose the polar regions as field of adventure include in their organization a service or a person (a meteorologist most of the time) who can follow them on the maps and give regular weather forecasts for the route the team is following. When Belgians Alain Hubert and Dixie Dansercoer made their entire arctic crossing from Siberia to Greenland, back in 2007, and when they were approaching Greenland, they could fortunetaly receive knews from their HQ and, doing so, they could fortunately avoid walking towards an area of the pack ice completely dislocated and melted by unpredictable warm weather conditions ; without these satellite links and without the help of some renowned weather institute, their traverse would never have suceeded.
In this Northern Passage expedition, Borge Ousland has chosen a Belgian meteorologist, Marc De Keyser, who has founded a company, 'World Wide Wearther', specialising in forecasting the weather for great adventurers and expeditions that go to the most remotes places on earth.
A well known meteorologist
Marc is hydro-meteorologist with a passion for the polar regions. He began his career as an aviation-meteorologist and worked for over ten years in operational air force units. For 9 years he has been working in the Oceanographic Meteorological Station of the Belgian coast to support marine operations in the North Sea.
Marc supported several operations and activities in the polar regions. He worked for the British Antarctic Survey for two summer seasons in Rothera on the Antarctic Peninsula. After working one summer for the Australian Antarctic Division in Davis on the coast of East Antarctica he joined the Antarctic Logistics and Expeditions and worked for two summer seasons in their base camp near Patriot Hills.
Discovering the weather in remotes places
Here is a part of the report from Borge Ousland trimaran when the trio was approaching Point Barrow few days ago : "Owing to its location 320 miles (515 km) north of the Arctic Circle, Barrow's climate is cold and dry and is classified as a polar climate. Winter weather can be extremely dangerous because of the combination of cold and wind, while summers are cool even at their warmest. Weather observations are available for Barrow dating back into the late 1800s. Currently there is a National Weather Service (NWS) Office and a National Oceanic and Atmospheric Administration (NOAA) Climate Monitoring Lab in Barrow.
"Despite the extreme northern location, temperatures at Barrow are moderated by the surrounding topography. With the Arctic Ocean on three sides, and flat tundra stretching some 200 miles (300 km) to the south there are no wind barriers and there are no protected valleys where dense cold air can settle or form temperature inversions in the lower atmosphere in the way that commonly happens in the Interior between the Brooks Range and the Alaska Range.
"Barrow experiences the lowest average temperatures in Alaska. While recording the lowest temperatures statewide during cold waves is rare, extremely low wind chill and "white out" conditions from blowing snow are very common.
"Temperatures remain below freezing from early October through late May. The high daily temperature is above freezing on an average of only 109 days per year. There are freezing temperatures on an average of 324 days per year. Freezing temperatures, and snowfall, can occur during any month of the year.
"Barrow is a desert, with an average of less than 5 in (127 mm) 'equivalent rainfall' per year, which includes less than 30 in (76 cm) of snow. (Since one inch of rain is approximately equal to twelve inches (305 mm) of snow).
"The first snow (defined as snow that will not melt until next spring) generally falls during the first week of October, when temperatures cease to rise above freezing during the day. October is usually the month with the heaviest snowfall, with at least a trace of snow virtually every day and an average total accumulation of about 7 in (18 cm).Snow can also fall in the summer.
"On November 18 or 19 the sun goes down, and remains below the horizon for about 65 days until it re-appears, normally on January 22 or January 23. During the first half of the polar night there is a decreasing amount of twilight each day, and on the winter solstice, December 21 or December 22, civil twilight in Barrow lasts for a mere 3 hours...."
Quite an interesting story, isn'it ?