Tourists : one down already !
Published on 05.12.2011 - South Pole and Back - Ski & Kite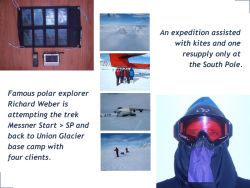 Weber and clients on the trek Messner Start SP and back to Union Glacier ALE base camp
© Expedition websites (Weber and de Lapuente)
Explorer Richard Weber and his clients have been flown to the edge of the Filschner iceshelf on 25 November. The next day one of the participants had to be airlifted because of a flu ! Bad start...
A Word of Introduction
At the time we have published the presentation of this expedition (a month ago), we did not have the name of the clients yet. Now we do. Here are the names (and motivation) of Weber's clients (Note : we publish these clients details in order to inform our visitors that although there are more and more people travelling to both poles nowadays, one has to be seriously trained and prepared (physically as well as mentaly) to go on a trip like this) :
Chris de Lapuente : After skiing the last degree to the North Pole with Richard and his team in 2004, Chris was bitten by the 'Polar bug'. He retired from P&G in September 2010 after 27 years hard labour! He then spent 6 months accomplishing many of his dreams, from climbing Kilimanjaro and Aconcagua to learning how to kite ski in Norway plus training for this South Pole expedition. Retirement didn`t last long and in April he joined LVMH as CEO Sephora Worldwide, which included negotiating a 2 month sabbatical to do this expedition.
Ruth Storm : Ruth is mother to two boys (Fred and Harry) and a London-based private equity professional, now business coach in private equity. In April 2010 she experienced the Last Degree ski to the North Pole and enjoyed it more than she thought she would! This journey to the South Pole is a wish to return to that enjoyment and further stretch herself with the length of the journey. She'll be interested in experiencing and observing team and individual dynamics along the way to add to her armoury of team and individual coaching skills.
Michael Archer : Resident of Waiau Pa, South Auckland/New Zealand, works in housing construction industry. Has competed in Ironman NZ, and Coast to Coast race in the past. Currently practices TaeKwon Do and is a keen alpine skier. Did last degree to North Pole in 2009.
Kathy Braegger : Kathy is one of a handful of women to have skied the last degree to both the North and South Geographic poles. Both expeditions were historic women-only expeditions led by Josee Auclair, Richard's wife and partner at Arctic Watch. After reaching the South Pole in 2007, Kathy decided to return someday to ski all the way from the coast to the pole and return as the early explorers had done. That time has arrived and she joins this team to complete that goal. Kathy will have kids from several schools in the U.S. following her trek. The kids will be studying Antarctic history and geology. Kathy will provide them with regular updates and hopes her journey will provide them with motivation to achieve their own goals in life.
And of course Richard Weber (see our bio of RW here). Richard is a world authority on polar travel. He has spent more time trekking on the Arctic Ocean than anyone in history. In 1995, together with a partner, he completed the only documented unsupported trek to the Geographic North Pole and back. He has Guinness records from expeditions to the North and South Poles. He holds the speed record from Hercules Inlet to the South Pole (Jan. 2009). He has also completed six expeditions from Canada to the North Pole, including the only unsupported journey to the North Pole and back to Canada.
Apparently, Josée Auclair who was foreseen to be on this trip, also as a professional guide, does not appear neither on the list neither on the field.
The unfolding of the expedition
The highlight of this Weber's expedition is the abandon on the second day of the expedition of one of its team members, Kathy Braegger. Of course immediately the obvious question arises : was this tourist well prepared or at least prepared enough for such a trip ?
The answer is without the slightest doubt yes. First Weber is a professional explorer and one of the best polar guide in the world (according to all the polar world). He would never take with him someone he does not trust. The fact is that Kathy has got a flu on the very first day of the expedition. And the next day she could not pull her sled anymore (although she wanted to) because of a sudden fever. The next day, she was getting worse. The same night, a ALE/Twin Otter landed nearby the expedition camp with a doctor on board. The latter decided, after examination and having diagnosed a serious infection, that the tourist had to be airlifted without delay.
Here is what Kathy wrote about this, few days after her pick up : "... What happened?….I was air-lifted from our camp about 24 hours ago. A few days ago, I started experiencing medical issues. It was a nasty, windy day and we weren't making much progress so we camped and waited for my condition to improve. When it didn't, we called the doctor on staff at basecamp for advice. He led us through various treatments over satellite phone, and when those didn't improve the situation, he flew to our camp. Once he was able to assess the situation in person, he determined that it was too risky for me to carry on without proper medical diagnosis through labs and imaging. In Antarctica, the medical team can patch you up, give you pain meds, give antibiotics and perform minor medical procedures, but no lab tests or imaging equipment is available. Thus, it was recommended that I be "Med Evac'd" back to Chile. I arrived here this morning and went straight to the hospital. It was determined that I could be treated medically and would not require surgery…that's the good news! The bad news is I'm now "Med Evac'd"….in other words, heading north instead of south. I am now recuperating in Chile and will head back to the U.S. tomorrow. The roundtrip to the Pole and back for me will need to wait for another day. ..."
The other hightlight of the trip was the bad weather (head winds, low temperatures, withe outs etc.) that beats down the team of four. Nevertheless they pur some distance in the belt : they are notching about 25 kms per day. On 3 December, afer having marched 26 lm, they passed the degree 84, the point that marks the quarter of the way. The amity between the team members is excellent -according to Chris de Lapuente who also runs an expedition website.