The South Pole : Solo but not Alone
Expedition News-Official Website
From 03.12.2011 to - Status: success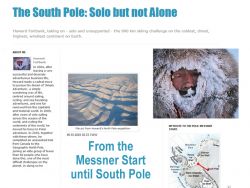 Solo but alone because some other expeditioners (clients) guided by R. Weber are following the same route.
© Expedition's website
On 20th November 2011, Howard Fairbank is scheduled to fly to a point 82'10"S 065'00"W on the Ronne Ice Shelf. This is the official, 'edge of continent', called Messner start point, named after the famous Italian mountaineer and explorer, Reinhold Messner who in November 1989, almost accidently established this start point and the route to the Pole.
Leaving the Ronne Ice shelf, the route skirts the western edge of the massive Foundation Ice Stream and the Transantarctic Mountains, climbing gradually to reach the South Pole at 9300 feet (2835m). Being only 900 kilomteres, this is a shorter, steeper, less traveled and more committing route that the more popular ones following Scott and / or Amundsen expedition paths, from the Ross Ice shelf.

The conditions are hard and icy at the start, and there is always the danger of deadly crevasse, hidden by snow bridges. Sastrugi, sharp irregular grooves in the snow, are hit or miss for most of the trek but tend to reduce in the last stretch of the trip, which becomes true ice desert wilderness. The low pressure in the South Pole can make the altitude feel more like 12,000 or 13,000 feet, which makes the physical exertion challenging.

Howard anticipates taking somewhere between 30 and 35 days to reach the Pole.
------------------------------------------------------------------------------------------------------------------------